Even though I now live in Chicago, I am still very much a tourist and I love to visit the tourist attractions in the city. Today I spent a good part of the day in Millennium Park and all I can say is "WOW!".
I don't know what I was expecting, but this park is spectacular!
I love the way that it is surrounded by high rises and then open to Lake Michigan. It is truly not to be missed.
What is Millennium Park?
According to Wikipedia "Millennium Park is a public park located in the Loop community area of Chicago in Illinois, US, and originally intended to celebrate the second millennium. It is a prominent civic center near the city's Lake Michigan shoreline that covers a 24.5-acre (99,000 m2) section of northwestern Grant Park. The area was previously occupied by parkland, Illinois Central rail yards, and parking lots.[1] The park, which is bounded by Michigan Avenue, Randolph Street, Columbus Drive and East Monroe Drive, features a variety of public art. As of 2009, Millennium Park trailed only Navy Pier as a Chicago tourist attraction and by 2017 it had become the number one tourist attraction in the Midwestern United States. In 2015, the park became the location of the city's annual Christmas tree lighting."
It is a spectacular display of art and greenery in an urban setting.
I was amazed at the number of people out in the park on this beautiful spring day!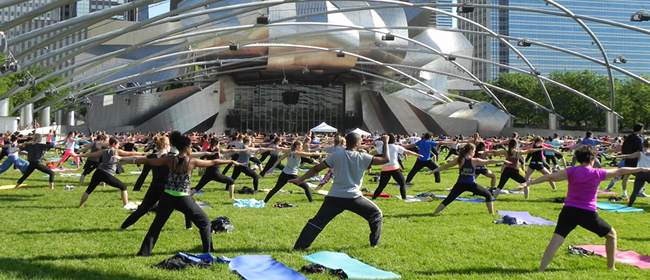 Here you can see people working out in the park. This likes so much fun! I am definitely going to try Yoga in the park!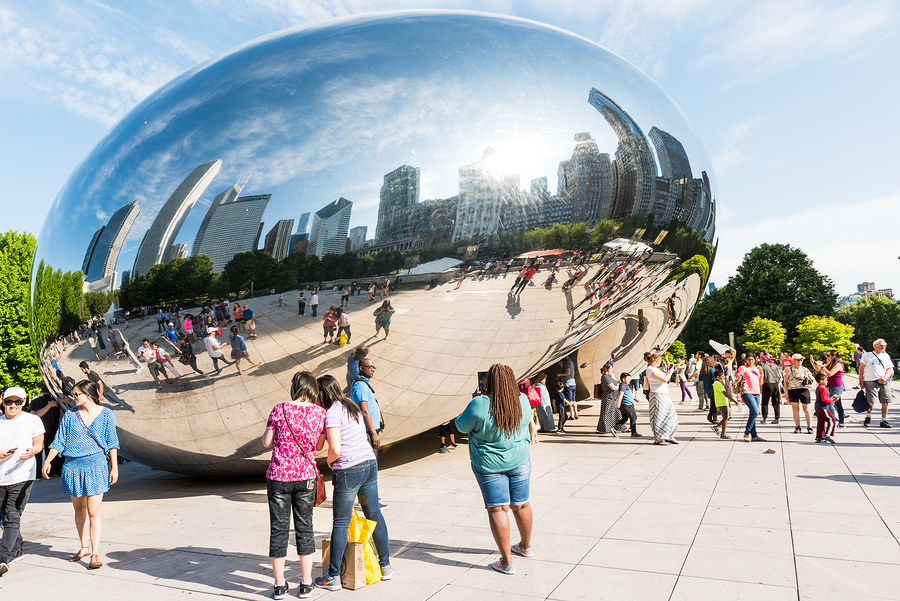 This is known as the Chicago Bean and is just one of the incredible works af art that you will see in the park.
As you can see, it is a huge attraction and it has to be one of the most photographed things that I have ever witnessed.
Everybody had to take a picture!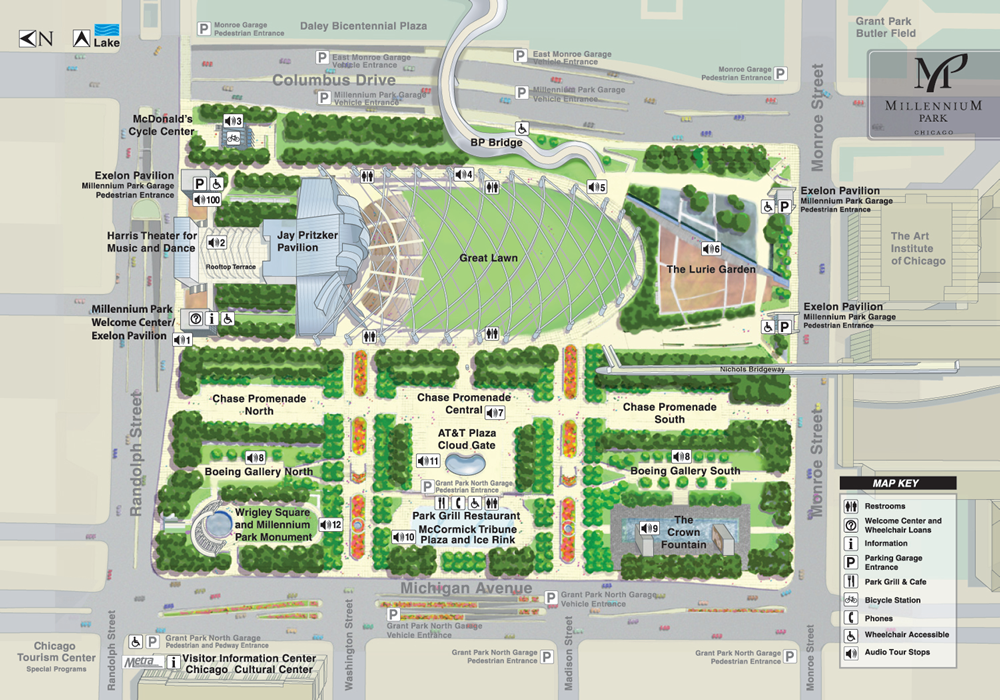 Here is a map of the park that shows you where everything is located. The great lawn is where the large crowd was doing yoga.
The Lurie Garden was just spectacular this time of year!
Having grown up Ice Skating, I can't wait for the winter when the McCormick Tribune Ice Rink is open!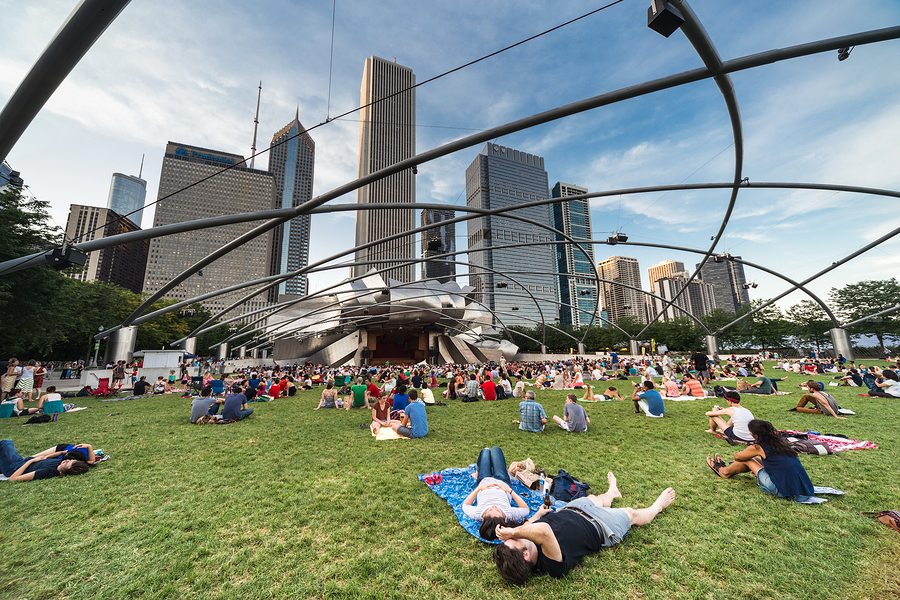 Here is the great lawn at Jay Pritzker Pavillion after the Yoga workout had left. It is such an awesome gathering spot!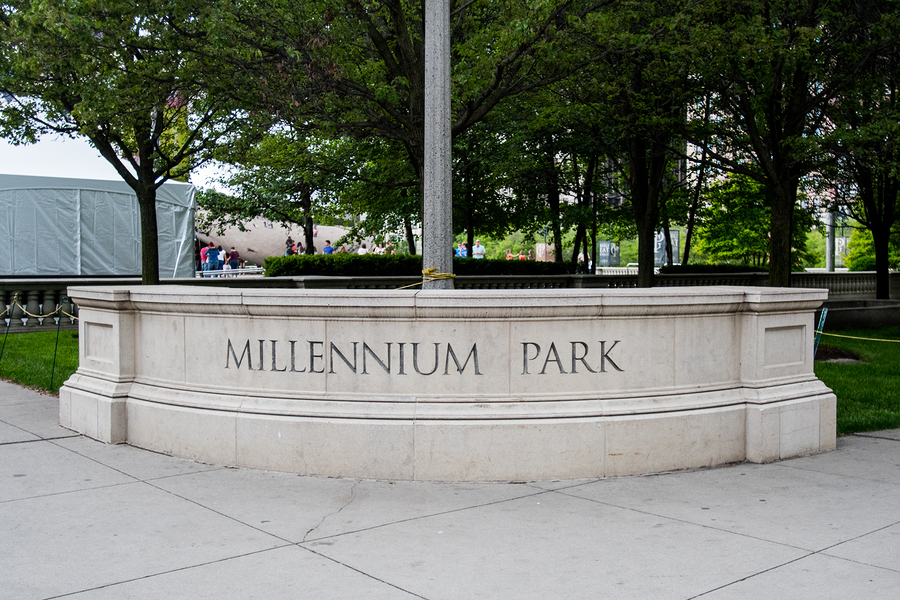 I absolutely loved Millennium Park and I will be back many times to spectacular oasis in the middle of urbanity. There is so much going on here all the time. From festivals and parties to people just hanging out and enjoying the breezes off the lake.
If you are in Chicago and looking for a place to spend the day, Millennium Park has to be on your list!